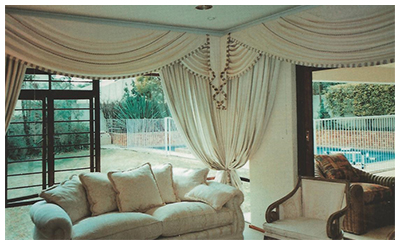 The RayMarcie Swag Patterns and Tutorials are available in these options:
Indivual sizes: Suitable to do your chosen design in your required size only.

Workroom Pattern Package: This option is for business operations, as this option supplies you with the necessary templates for all 15 swag designs in every available size.
For more info on how to order the RayMarcie Swags & Tails Patterns, send an email to: marcieg@raymarciedesigns.co.za
RayMarcie swag & tails patterns and tutorials
From city dwellers right through to rural areas there are numerous people in South Africa who would like to have these designer curtain styles in their homes. (I know! I have placed them in homes for more than twenty years.) Well now they can! By simply purchasing the Marcie Patterns & DVDs, almost anyone can now make these award winning swags & tails.
I, Marcelle Marguerite formally of Raz Interiors, have developed this unique DIY concept for swags and tails, which is the most user friendly concept ever devised.
When using the RayMarcie Patterns and Tutorials. It is a READ, WATCH, LISTEN and then IMPLEMENT concept
Never before has it been this easy to make such stylish looking window décor
The RayMarcie Patterns and Tutorials enable one to become a self-employed operator, servicing the nation in exclusive window décor.
---